Smart Autoclicker Will Do All Your Routine Tasks for You.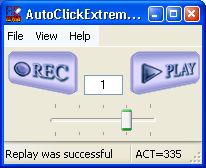 If you are tired of routine repetitive actions and want to do only the creative part, a smart autoclicker is what you need! AutoClickExtreme autoclicker will fully automate your computer! Work that usually takes you half a day or more will be done in minutes!
AutoClickExtreme is designed to be easy to use and 100% reliable! All actions are recorded automatically, no programming required. This clever program combines the simplicity of an ordinary autoclicker with the complexity of a human-like mechanism. AutoClickExtreme finds images on the screen and performs one sequence of actions or another, depending on what image is found. This unique technology provides great features like 100% control of fulfilled tasks and high-speed replay of recorded actions.
AutoClickExtreme's smart technology senses and adjusts to changes between record and replay conditions. With this smart autoclicker all your macros are sure to be accurate, reliable, and trouble-free.
You don't need to be a programmer to make macros with AutoClickExtreme. Just click on the Record button and do whatever you need. Then, when everything is done, stop the recording by clicking on the blinking icon in the Tray. Your macro is ready. Set the time when you want it to be replayed, and take a rest. Everything will be done for you.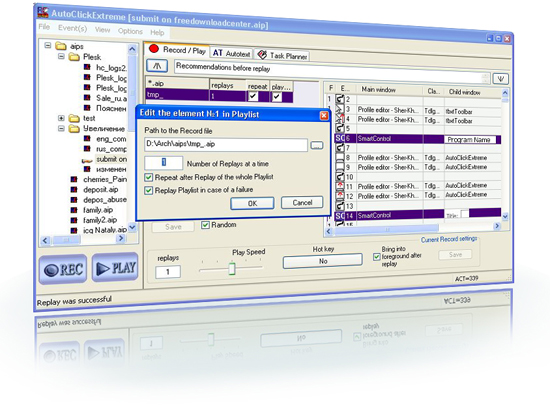 Key Features of AutoClickExtreme Autoclicker
- You can process large amounts of files, make backups, convert data from one format to another, and automate Excel tables.
- Use the Playlist for automated software testing. AutoClickExtreme will perform a series of tasks at random or in the order given in the Playlist. It will test other programs itself. It can work the whole night without your help, and you can be sure, all the work will be done properly.
- You can edit the recorded actions manually and insert pauses before any actions, moreover, now you can copy and paste any action from one task to another.
- This multi-purpose autoclicker can function as a scheduler. You can schedule macros at any time, any day of the week!
- With the "autotext" function, you can insert any large text in any Windows program instead of just a few words or characters.
- You can set a "hot key" for any task and use it to run the task any time you like.
- Now you can use a new function of this autoclicker – "Smart Control." Control an application launch, control the Windows Clipboard, open Internet sites, and use dynamic variables. (Some of them are provided by AutoClickExtreme; others you can set yourself.)
- You can also use the new Pixel Control technology with Replay branches. AutoClickExtreme waits for the needed images to appear on the screen and carries out this or that sequence of actions depending on the image it finds. This smart autoclicker will itself suggest you where to create an alternative Replay Branch. You don't even have to bother about it.
- All your programs will be under your control with AutoClickExtreme. Automate Photoshop, Excel, Word, the Internet ... anything!
AutoClickExtreme is unique compared to other automation software. It's the most reliable autoclicker in the Internet market. Read about ACE's advantages over its competitors.
We provide professional support. All your AutoClickExtreme questions will be answered, and all your suggestions will be taken into consideration. You will get professional advice about your work automation.
The free trial period is 41 days, during which time you can use both the simple and the professional view. When the trial time expires, you can still use the simple view of the program.
Download AutoClickExtreme free of charge.
AutoClickExtreme is a multi-purpose universal autoclicker. It will save you time and energy by automating all your routine computer tasks. You will do only the creative part, and the rest will be done by AutoClickExtreme. The registered version costs only $49.